[credit: B. Wacks]
So we had another big release so there's another .0 celebration at work. The Fingerprint from the last one was such a success, I got to develop a new one for THIS time too. Now, was I asked or did I volunteer? Hmm …
I wanted to work with gin this time — I really love the botanical notes and it works so well with many edibles. I know there are LOTS of people who say they don't like gin, so I wanted to develop a gin drink for them. I played with the Bombay Sapphire East last summer — it's not an aggressive gin — not so much juniper-forward — with definite notes of citrus. Might be the lemongrass? I'd found that I really loved gin with cucumber, so that was my starting point. As to why I got inspired to throw in the kiwi — who knows. But it REALLY works with the gin and cukes.
So the Culinary Guinea Pig totally signed off on this. But sometimes I like a little extra verification, so I had my neighbor John try a little. John is more into super dry gin martinis over "craft cocktails" — so I felt he could provide some constructive criticism on balance — especially if it was too sweet. His response? "Why aren't you a bartender?"  LOL   So I think you can serve this one without worry!
So, a sidebar before we get to the drinking. As I am developing a cocktail, I frequently start out using teaspoons and tablespoons of the syrups, liqueurs and liquors to check the flavor profiles. Then I ramp it up to a serving. Then, as needed, I up the proportions for a pitcher. I don't take pictures until I think I'm final — makes sense, right? So I JUST NOW realize, as I'm about to upload the pictures — I FORGOT THE MINT in the final pitcher at home for the photos!! It's KILLING ME — the drink is incomplete without the mint! Don't be like me — get the mint in there. And of course this means I have to go buy another cucumber and more kiwi and take the pics all over again. Because I'm slightly obsessed that way.
The History Stopper
Yield: 6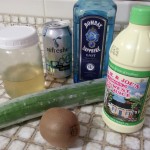 1/3c to 1/2c Cucumber-Kiwi syrup (recipe below)
1/4c lime juice (no shame in using bottled Nellie & Joe's Famous Key West Lime Juice)
1c Bombay Sapphire East
12oz seltzer (unsweetened)
Mint leaves
Lime, cucumber, or kiwi for garnish
Add the cucumber-kiwi syrup and lime juice to a pitcher. Stir well. Add the gin and stir again. Add the seltzer and stir gently. Fill a rocks glass with lots of ice. Place two leaves of mint in one palm and SPANK the mint with your other hand. Drop those leaves in the ice. Pour in the drink and garnish with a lime wedge and/or a cucumber wheel and/or a kiwi wheel.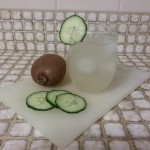 *****
Now, for a crowd, I was making a double batch in EACH of my two party pitchers — doubling all the measurements above. I got more than 12 servings out of each double batch because we were using pretty small cups.
This sizes down nicely as well — it's a 2:1:4:6 ratio, for you math geeks. For other people, it's 2 tablespoons of the syrup, 1 tablespoon of lime juice, 1/4c of gin, and 1/4 of the can of seltzer.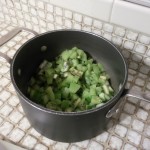 Cucumber-Kiwi Syrup
Yield: 12 to 16 ounces
1/2 English cucumber, unpeeled, chopped into a medium dice
2 kiwis, peeled, chopped into a medium dice
water
sugar
Place the cucumber and kiwi in a saucepan. Add just enough water to cover. Bring to a bare simmer and cook gently until the cucumber and kiwi have softened and the water is a lovely green color. Strain through a fine mesh strainer, pressing and pushing the solids against the strainer to extract as much juice and puree as possible. Discard the seedy mush. Measure the remaining (strained) liquid and add just enough water to make an even measure (1 cup, 1.25 cups, 1.5 cups, etc). Pour this into a clean pan (or the same pan rinsed out). Add an equal amount, by volume, of sugar. Bring to a gentle simmer, stirring often to ensure sugar is dissolved. Boil gently for 2 minutes. Allow to cool completely. Refrigerate. Should last two weeks — but not likely much longer, as there's a fair amount of solids that push through the strainer.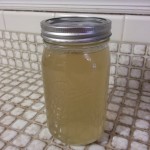 Use in cocktails.
Mix with seltzer for the pregnant lady in the office.
Drizzle over ice cream.