Confession: my freezer is full of ziploc bags of goodies. Today: rolled up raw bacon slices (3 to a bag), bread crumbs, chopped celery, whole habaneros, sad little carrot chunks, peeled ginger hunks, and even some cooked pumpkin puree. Previous finds have included lamb jus and chipotles en adobo. It's best when I remember to label the bags, because those two looked pretty much the same when frozen. It makes perfect sense to me — who uses a whole can of chipotle en adobo in a single recipe? Leftover bags of potato rolls from an office luncheon? Pulse them in the food processor and freeze the crumbs for future meatloaves. I chop and freeze celery and carrots to have them ready-to-go to start a soup or enrich a stock. In the case of the pumpkin, I used only part of a can so I put the remainder away for another creation.
So sometimes these bags lie untouched for months (I've started dating them when I remember to label them). And then I'll be digging for the walnuts that I KNOW are in the back of the freezer, and I'll come across something forgotten, which gets my hamster going. Which is what happened with the pumpkin. I had bought chicken tenders a couple of days ago since they were on sale and we are in the middle of a heat wave and I knew they would cook FAST. But then I came across the pumpkin, and it's been turning over in my mind, and I knew I didn't want to make pumpkin bread (in a heat wave?), and I was pretty sure I had curry paste and coconut milk in the pantry, and Thai basil in the garden, and so the idea of a pumpkin curry began to form in my imagination. I also found an additional freezer surprise — the last of a bag of cubed butternut squash — SCORE!
Thai cuisine in general feels "light" to me, even with the coconut and spices. We eat a Thai-inspired dish probably once a week in the summer. This curry is lighter than what I usually make — which is more appropriate to this heat.
Pumpkin Curry
Serves 4 to 6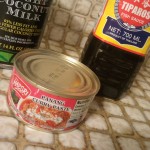 1 1/2 tablespoon canola oil
1 large shallot (or 1 small onion), sliced thin
1/2 can (~2oz) Panang curry paste (see photo)
1.5 lbs chicken tenders
1 can (14oz) light coconut milk
1 cup low sodium chicken broth
2 cups cooked pumpkin puree
1/4 to 1/2 teaspoon fish sauce, to taste (see photo)
1/2 to 1 tablespoon lime juice, to taste
1 1/2 cup frozen butternut squash cubes, thawed
Steamed rice
Thai basil leaves for garnish
Heat a large pot or skillet over medium heat. Add canola oil then shallots. Stir the shallots until they soften slightly. Add the Panang curry paste and cook it in the oil with the shallots until fragrant, just a minute or two.
Add the chicken chunks and stir to ensure they are fully coated with the curry paste. Cook until the chicken's outside is opaque and it is about 50% cooked. Takes maybe 5 minutes, but that will vary depending on white or dark and the size of your chunks.
Add the coconut milk, chicken broth, pumpkin puree, fish sauce, and lime juice. Stir gently to incorporate. Taste for seasoning and add a touch more fish sauce and lime juice if needed. Allow to simmer gently, stirring occasionally, until the chicken is ALMOST done — maybe another 8 to 10 minutes. I check doneness by feel, but feel free to use a meat thermometer and probe the largest chunks.
Add the squash cubes — they will need just 3 or 4 minutes in the curry to come up to temp.
Serve over steamed rice. Garnish with the Thai basil leaves.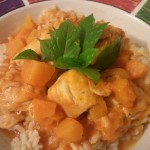 NOTES:
I had Penang curry paste in the cupboard, but I think red curry paste would work as well.
The chicken won't brown, like in a saute, but you'll see that the outside firms up and changes color. It is still raw inside but that's okay because it will continue to cook while the sauce simmers.
Boneless, skinless breasts or boneless, skinless thighs would substitute just fine for the tenders. I think it would be fab with shrimp, too. I'd saute the shrimp for just a minute or so with the curry paste and add the butternut squash cubes with the liquids and adjust the cook time down considerably.
The Thai basil leaves are more than garnish — stir them into your bowl of curry where they will wilt slightly. They add a lovely anise flavor to the curry and really enhance the mild pumpkin flavor.
My cook times are approximate — I cook by feel, not the timer. Sorry