Rhubarb berry ice cream, anyone?
It's summer, it's hot, and I am going to eat ice cream. The store-bought stuff is fine, but have you tried reading the labels lately? Poly-what? Hydrolyzed who? I flunked organic chemistry in college, so I really can't decipher what I'm eating. And forget about the reduced fat or reduced sugar varieties — UGH. So if I'm going to eat ice cream, why not make it out of ingredients I can pronounce and seasonal flavors that really tickle my palate?
As a child, we had one of those old-fashioned Ice+salt wooden-crock hand-crank ice cream makers. Us kids would beg and beg and beg for ice cream, my parents would say no we never crank long enough, we would promise to crank and please oh please and finally, yes, my parents would give in. Each of us kids (there were three of us) would crank for about 2 minutes, plead total exhaustion, and then my poor dad would be stuck cranking that thing for 45 minutes by himself. The ice cream was wonderful, but it was understandably about a once-a-year treat.
As a young adult, I bought one of those small units where you freeze a special bowl and then make ice cream in it. I could never get my freezer cold enough, so the ice cream never really froze fast enough or hard enough, so it was a bit of a disappointment. Fast forward to my **ahem** later adult years, and I decide to acquire one of those ice+salt machines, but an ELECTRIC one. They run about $40. My first one died after just a few batches but my current one seems to be going strong.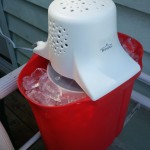 So my latest ice cream confection truly is blogworthy. I started by making a compote of rhubarb and mixed berries at my brick house mid-week (it was very tasty on its own and would have been awesome over waffles, french toast, or vanilla ice cream). I refrigerated it for a couple of days before transporting it to the beach house on a Friday night. That Saturday, I combined the compote with the ice cream base and froze me up some ice cream.
Rhubarb and Mixed Berry Compote
1 cup chopped rhubarb
2 cups berries (I used a frozen cherry, blackberry, black raspberry, blueberry mix)
1 cup sugar
1 tablespoon lime juice
1 hunk peeled ginger, about 3/4 inch, cut into several thin rounds (COUNT HOW MANY)
1/4 cup water
Combine all in a non-reactive saucepan. Bring to a low boil over medium heat. Turn heat down and simmer gently for 5 – 10 minutes until the rhubarb is tender but not mushy and the liquid has turned syrupy. If you taste the rhubarb it should have absorbed some of the sugar but still retain some tartness. Let cool to room temperature. Fish out the ginger rounds (that's why you have to count them). Refrigerate several hours before using to make ice cream.
Ice Cream Base
Adapted from Sweet Cream Base #1, Ben & Jerry's Homemade Ice Cream & Dessert Book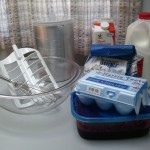 3 extra-large eggs
Yolk of 1 extra-large egg
1 1/2 cups sugar
4 cups heavy cream
2 cups whole milk
Whisk the eggs in a HUGE bowl until light and fluffy. Add the sugar gradually, whisking like crazy. Add the cream gradually, whisking gently to combine. Add the milk gradually, whisking gently to combine. Add the refrigerated compote, stirring gently to combine.
Freeze according to your manufacturers instructions. These quantities are appropriate for a 4 quart ice cream maker.
*****
I was a little short on ice and too lazy to drive back down to the liquor store to buy more, so my ice cream did NOT thicken/freeze in the ice cream machine as much as I would have liked. No worries — I just scooped it into a couple of large plastic containers, leaving headroom, and froze the covered containers in my VERY cold home freezer. Even if it had thickened to the consistency of soft-serve, which is about what I get out of my machine, I still would have had to harden it off in the freezer. It's just part of the process.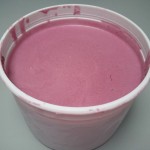 I served the ice cream with fresh NJ blueberries.
*****
I made this ice cream a few weeks ago, using fresh strawberries rather than the mixed frozen berries in the compote. I also added some uncooked fresh strawberries to the base. It was delicious, but not nearly as colorful. Also — the uncooked strawberries tend to get a little hard when they freeze, but the cooked ones had soaked up some sugar and remained softer after freezing. I'm now sold on the idea of pre-cooking the fruit with sugar for ice cream.