So it's football season again. I get a little obsessed with "tailgate food" right about now. Until I get obsessed with Halloween. In any case, I've been dreaming of bacon-wrapped hot dogs. No, I don't know why, other than I am entranced by bacon ANYTHING. We accidentally candied some bacon last year, which was amazing, so I made some more and threw it into some classic chocolate chip cookies, which were about the best thing ever. But you can't live on cookies, so I decided to branch out with the bacon.
There's not much to this recipe — wrap some bacon around some hot dogs (I'd skip the lowfat turkey kind) and grill gently until the bacon is crispy and the hot dog is splitting open. Slap it on a bun and you've got some Man Catchin' Crazy But Good Dawgs. Except I already have a man and do not need anymore, thank you very much.
Bacon Wrapped Hot Dogs on the Grill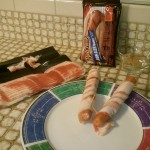 Serves 4
16+ wooden toothpicks, soaked for an hour in water
Eight meat hot dogs
Eight slices bacon (the cheap thin kind)
Eight soft potato buns
Selection of mustards, barbecue sauce, or dipping sauces
Wrap a slice of bacon diagonally around each hot dog, securing at each end with a toothpick.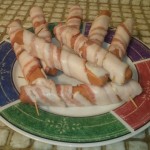 Slowly grill over a moderate heat until the bacon fat has rendered off, the bacon is crispy, and the dogs are starting to split open. You may need to move your dogs to the cooler or indirect side of your grill. This may take a while. Drink a beer.
Serve on soft potato rolls with a selection of sauces. The CGP had a smoky barbecue sauce. I went with a sweet Thai chili dipping sauce.