Happy Thanksgiving! I am traveling back to Virginia from Florida today, so our T-day dinner will be delayed a day or two

  Hope yours was scrumptious!
So my friend Amy grew some leeks this year (I grew weeds, one intentional tomato plant, and countless volunteer cherry tomato plants). She OH SO GENEROUSLY brought me the very first one she harvested. It was beautiful. Not as large as the commercially-grown grocery store versions. Much more tender (yes, I nibbled on some green to test). And not nearly as DIRTY as a grocery store one. I pondered out loud what I might make … not a pie, because it wasn't big enough, but certainly an omelet. Or a frittata. But something that would really let the leek shine. I was REALLY excited about the lovely little hand-grown leek! Well, I wasn't exactly fishing for more, but the next morning, Amy brought me some MORE of her lovelies. NOW I had enough for some sort of pie!
I'm a little obsessed with the thought of pie lately, because I've been practicing pie crusts. So when my quantity of leeks suddenly shot up, well, we were going with something crusted. I stumbled around the internet to get some ideas, and realized that something like a quiche really appealed to me. But you know what, most quiche recipes call for half-and-half, or cream, or BOTH. I really didn't want to overpower these sweet tender leeks with a heavy custard — I wanted them to star. Over at The Kitchn, their recipe called for 3 eggs, 1 cup milk, and 1/2 cup cream, but if you actually READ the intro, you see they recommend a 2 eggs-to-one-cup-milk ratio, or 3 eggs to 1 1/2 cups milk for a nine-inch pie. So I had my custard figured out!
But what else to throw in there? I knew my husband would cringe without some sort of meat. Because the leeks are so sweet, I didn't want to go the similarly sweet ham or prosciutto route, but I did have BACON. Bacon would add a salty-smoky counterpoint to those sweet leeks. I always have bagged, shredded cheese on hand, and the swiss caught my eye for its nutty bite. Folks, we are close to lift-off!
Leek, Bacon, and Cheese Quiche
Serves 6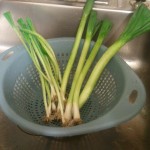 One unbaked 9″ pie crust
1 tablespoon unsalted butter
A minuscule pinch of Kosher salt
1 1/2 cups well-cleaned and finely sliced leeks (whites and light green)
6 – 8 slices crispy-cooked bacon, cooled and chopped or crumbled
1 to 1 1/2 cups shredded cheese (bagged, pre-shredded is fine)
3 eggs
1 1/2 cups milk (I used 2%)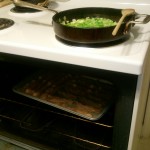 Melt the butter in a small saute pan over medium heat. Add the well-cleaned leeks and just a pinch of salt. Saute until soft — turn down to medium-low if they start to color — this will take a while since leeks are much more fibrous than a shallot or regular onion. Allow to cool.
Preheat oven to 400F.
Loosely toss the leeks, bacon, and cheese and put in the bottom of the crust.
In a separate bowl, beat the eggs with a fork until the yolks and whites are broken up, then add the milk and mix well with the fork. Gently pour over the leeks and friends. Put in the oven and bake for 25 to 35 minutes, until the custard is mostly set. A little jiggle in the middle is good. I usually take a butter knife and insert it about 1/4″ into the custard, about halfway between the center and the edge, just to make sure it's set. Pull and allow to cool before slicing. How cool? You should be able to pick up the pie plate without screaming.
As a side, I made a mustardy vinaigrette to serve over cold (leftover) green beans tossed with sun-dried tomatoes. The bitter of the mustard+vinegar and the crisp of the green beans was a nice contrast to the soft, warm, cheesy quiche. And some bacon