My favorite summertime cocktail is the mojito. I've perfected one to my palate so I don't usually order them when I'm out. And I'm a little suspicious of the flavored ones, especially if the flavoring comes from a flavored rum and not from fruit, like say a mojito made with mango rum but no real mango in it. And the idea of a coconut mojito — ugh. Call me a mojito snob maybe?
With the success of my Blueberry-Ginger Smash last week, I've got ginger on my mind. And when my neighbor went out of town leaving me with a few sprigs of quickly-wilting mint, I started thinking about mojitos. And then I did the unthinkable — I tinkered with my mojito recipe. Heresy, I know. I don't know what came over me. But I've got to admit — this is GOOD. You know you are drinking a mojito — but that ginger pops out and really brightens the drink. Will these replace my standard mojito — probably not. But it's a nice one to have in your repertoire.
Ginger-spiked Mojito
Serves 1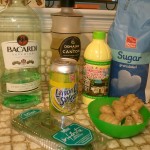 4 – 6 mint leaves
Finely grated fresh ginger (1/8 teaspoon or so)
1 tablespoon sugar
1 tablespoon lime juice
1 tablespoon ginger liqueur
4 tablespoons white rum
Ice
4 ounces (1/2 cup) lemon-lime seltzer
Muddle the mint leaves, ginger, sugar, and lime juice in the bottom of a tall glass. Add the ginger liqueur and rum, ensuring the sugar is fully dissolved. Add ice to the top of the glass. Add the seltzer and gently stir to combine. Garnish with a mint leaf if there are any left. Salud!