It's always fun to find something new and fleeting at the farm stand. So when I came across garlic scapes last week — I grabbed a bagful. A garlic scape is the flower stalk of the garlic bulb. They are harvested so that the garlic plant focuses on bulb growth, not reproduction :). They are tender and garlicky but the flavor is not as strong as the bulb. And here in the Mid-Atlantic, they are an early June treat (a little late this year I think) — so you gotta get 'em when you see 'em!
I've never used them before, but the nice lady at the farmstand suggested making pesto with them. So I googled around and found an approachable recipe over on Dorie Greenspan's blog. But of COURSE I didn't have the nuts she used, so I had to experiment a little. Oh my goodness — this stuff is GOOD. I ate it with a spoon. I smeared it on crackers. I smeared it on crackers with the olive cheese. I made a shrimp "scampi" with it. I made a pomegranate molasses vinaigrette with it.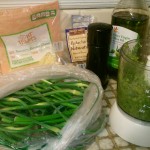 Garlic Scape and Pistachio Pesto
Adapted from a recipe by Dorie Greenspan
10 garlic scapes, roughly chopped
1/4 cup shredded Parmesan (I used the bagged stuff)
1/4 cup roasted, salted pistachios
About 1/2 cup extra virgin olive oil
Freshly ground black pepper
Whir the scapes, Parmesan, pistachios, and half of the olive oil in the food processor until well blended and finely ground. Add a grind or two of black pepper. Slowly add the remainder of the oil — watching the texture closely — you might not need all of it. If it's a little too thick — add a little more oil. I used my mini food-processor, so I ended up with a fairly "rustic" texture (pictured below, left). A couple of days later, I doubled the recipe in my full-size food processor and ended up with a much finer texture (pictured below, right). Both were scrumptious.
If you don't eat it all immediately, store in the fridge with plastic wrap pressed on the surface. Should be fine for a couple of days, but any longer than that, you need to freeze it.