For me, summer isn't summer without watermelon. I know for some it's tomatoes. For others, peaches. But for me, the hot hot days of summer go hand-in-hand with icy cold watermelon. I like big cold chunks on a plate, lightly sprinkled with kosher salt. And preferably seedless from Swann's in Calvert County, MD.
Last year I developed a pretty amazing watermelon cocktail. It's fresh and fruity and just right for summer, but it's also potent and I make each one individually. So when my dear (beach) friends Sue and Steve invited me over for Sunday dinner with a (new) friend Cookie, I wanted to make something a little lighter and in a pitcher, but still rely on the luscious local watermelon. Why wouldn't watermelon work in a sangria? I drew on the flavors of the previous year's cocktail – grabbing mint and lime and some flavored rum. I had a bottle of white wine ready-chilled. Even though I typically do a spice-infused simple syrup to start a sangria, I knew the fresh mint leaves didn't require that (in fact, I prefer the fresh flavor to a steeped flavor). And we were off!
Watermelon Sangria
Serves 4 happily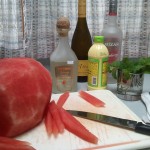 2 – 3 cups cubed seedless watermelon
scant 1/4 cup sugar
scant 1/4 cup lime juice
Big handful of fresh mint leaves
6 tablespoons strawberry rum
2 tablespoons orange liqueur
1 bottle dry white wine (I used a pinot gris from Oregon)
12 ounces (1 can) ginger ale or lemon-lime seltzer
Cube your watermelon. You can see in these pictures I took a different approach to peeling — it seemed safer this way. And yes, those are fossils in the background. They are pretty much found on every horizontal surface in our beach shack.
Muddle the sugar, lime juice, and mint leaves in a large pitcher. Add the rum and orange liqueur, stirring well to dissolve the sugar. Add the watermelon and stir gently, trying not to break up your cubes. Put this in the fridge to percolate for a couple of hours (just before serving, I pulled the mint leaves out — I don't mind them in a mojito but they looked a little spent for the sangria).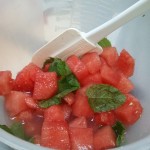 When ready to serve, add the white wine. Taste at this point — if it seems balanced in terms of sweet to acid, add your ginger ale. If it tastes a little too sweet (because wines can vary so widely), add seltzer water instead. Stir gently. Serve over ice, garnished with a little mint.
This was definitely a less-boozy version of sangria. Flavored rums tend to be quite a bit lower in alcohol than the usual brandy. The watermelon soaks up some of the rum-and-sugar mixture, so it's really delightful to eat that as you empty your glass. Strawberry complements the watermelon, but I think passionfruit rum would as well. I would stick with a fairly neutral white in this — a riesling or heavily oaked chardonnay is going to fight with the watermelon. Pinot grigio is the same grape as pinto gris, just a different style of wine, and that would work nicely as well.