So a blogger I follow, Marisa McClellan over at foodinjars, recently published a cookbook, Preserving by the Pint: Quick Seasonal Canning for Small Spaces from the author of Food in Jars. And in that cookbook was a recipe for biscuits made entirely with Whole Wheat Pastry Flour. I was skeptical. I've worked with whole wheat flour with real mixed results. So I filed this tidbit away for Future Investigation and ended up buying some Whole Wheat Pastry Flour by Hodgson Mill a few grocery trips later. And you know what — no longer a skeptic!
Experiment #1: My old nemesis, pie crust. I decided to go with all-butter (no lard) and sub out half of the all-purpose flour with this whole wheat pastry flour. The dough was a little persnickety upon rollout, perhaps a touch more fragile, but really not so different than the all A/P version. I made a ham-and-cheese quiche with one half, and honestly, the slight grit and nuttiness of the crust was an improvement over the all A/P version! Lots of light flaky layers, too. I froze the other half for later use. I would discourage that — the dough was VERY fragile and tore often upon roll-out. I did a lot of patching but managed to eke out a decent enough crust for an apple pie. Some flakiness lost, but all in all, a decent pie.
Experiment #2: Classic Toll-House Chocolate Chip Cookies. I went with my melted butter technique but otherwise used the basic recipe, subbing out half of the all-purpose flour with whole wheat pastry flour. I have a stand mixer, so no issues with mixing. My personal taste test of raw dough revealed the merest grit and nuttiness, but an innocent bystander probably wouldn't have noticed the difference. They baked off consistent with the full A/P version. Final product was given a thumbs-up all around. The slightest change in texture — but everyone said they wouldn't have noticed if I hadn't said something.
Experiment #3: Biscuits. Given the success of the previous two forays into WWPF, I decided to brave a half-batch of biscuits using ONLY the whole wheat pastry flour. I used the proportions and general techniques found at Mommy's Kitchen, which is based on a Southern Living recipe. I of course doctored it up — this time with some shredded sharp cheddar. I found I had to up the quantity of buttermilk a little — the WWPF really sucked up the liquid. I also did NOT have the usual gloopy dough that I have to turn out on a well-floured board for booking (laminating?), so I formed eight small biscuits by hand, handling the dough as little as possible. Baked them off, keeping an eye on the time, and ended up with crusty-outside-fluffy-inside cheesy biscuits. Awesome alongside a basic fish chowder.
Why choose WWPF over A/P flour? Fiber, baby. One-quarter cup unbleached, all-purpose flour has about 1 gram of fiber. One-quarter cup of whole wheat pastry flour has 4 grams of fiber. For someone who's trying to be smarter about their carb intake, fiber matters.
So, will I sneak WWPF into every baked good from now on? Probably not. But if I'm making a quiche, I might prefer the half WWPF version. And if I'm making savory biscuits on a weeknight, I might go the WWPF version since it's less messy and slightly more healthful.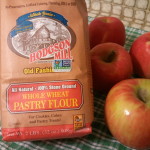 Standard caveat: This is a personal recommendation. I have been provided neither product nor compensation for this endorsement.