The CGP and I were in Florida around Thanksgiving (yeah, this post is nearly a month overdue). We "needed" to attend the annual homeowner's meeting for our condo down there, so we turned it into a week+ vacation. I don't usually cook much when we are down there. We have coffee and pastry/yogurt at home for breakfast, and then eat either lunch OR dinner out. The other meal might be light sandwiches or restaurant leftovers. Because we leave no foodstuffs behind when we depart, it can be a challenge to make sure we don't throw away alot at the end. So breakfast on the last day **might** be ice cream. Just saying.
Our absolute favorite restaurant in Tampa is the Columbia Restaurant, with its Spanish/Cuban cuisine — we always go to the landmark original site in Ybor City. We literally pass the exit as we leave the airport for our condo. So more often than not, we do stop there for a late lunch right after we land. Everything we have ever tried is just top-notch. Ropa Vieja is my personal favorite. Their classic Arroz con Pollo (a special on our most recent visit) is just the best. The Cuban sandwiches are very very well-made. One year, we stopped in on Christmas Eve and got to try this amazing sour-orange roast pork loin that I think is made just for the holiday dinners. Sangria, mojitos, and pisco sours (pictured below) will NOT disappoint. And if you are so inclined, the hand-rolled cigars in the gift shop next door are pretty special, too. Reservations are recommended, unless it's 3:30p and you've just rolled off the plane. Try to plan dinner around one of the Flamenco dance shows, if you can.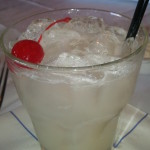 Last year with visiting friends, I stumbled on a bayfront bar in a marina in Englewood called Zeke's. Strong drinks and fried seafood, pretty much as expected, but they served a smoked fish dip that blew my skirt up! I chatted with the chef briefly, and the fish he uses changes daily based on what's available, but he was personally smoking it and then assembling the dip. So I was thrilled to find that Zeke's has recently expanded into a standalone restaurant, Zeke's Uptown Bar & Grill. The fish dip still available, as good as before. The Crayfish Potato Nachos were like the best bar appetizer ever. And a really well-done New England Clam Chowder. I'll be honest — I don't think we even ordered an entree because the appetizers were generously sized for sharing — the tuna carpaccio was equally delish. I am looking forward to a repeat visit next time we're down.
One of our Manasota Key traditions is to split the Fisherman's Feast (haddock, shrimp, scallops, and ipswich clams) at Flounder's Restaurant and Tiki Bar. Why split? So we can save room for deep-fried coconut cheesecake with mango sauce. Lots of fun tropical drinks to try — make sure someone is pre-designated to drive, as they pack a punch. We ate a traditional Thanksgiving turkey meal there this year — excellent food with live music and the palm trees waving (it was about 70F that day).