And so begins my lament … I hate winter.
Yes, hate is a strong word. But I am so over winter. I'm tired of the freezing pipes battle. I'm tired of the freezing furnace sump pump battle. I'm tired of throwing treats out the back door because otherwise the dog won't go out to do his business. I'm tired of being cold, all the time. The high point of my morning commute? When the seat heater kicks in. The one bright spot until April I guess.
Winter has me hankering for lamb. So on Sunday, with a little sunshine and temps above freezing, I wandered up to the Lebanese Butcher to get a leg of lamb. There's a very friendly, well-spoken young butcher who takes great care in deboning this near-primal cut for me. While he's working over my leg, I usually wander around the market and fill my basket with interesting exotic (to me) condiments. This time, I found a carton of Guava nectar out of Egypt. The ingredient list was guava pulp (35%), sugar, citric acid, and water. That's it. No HFCS. No artificial colorings. No preservatives. So I grabbed a box. Given that this is a Halal market and appears to be run by observant Muslims, I didn't mention I was going to use it in cocktails

So with my veg-heavy lamb stew started (lamb, Penzey's Lamb Seasoning, onion, celery, carrot, bell pepper, garlic, tomatoes, cubed acorn squash, chickpeas, homemade lamb stock), I set my mind to a little beverage experimentation. I tried a little of the nectar on its own — not as sweet as I expected. Slightly citrusy … slightly floral … very delicate. I mixed a little with gin and orange liqueur — but that wasn't working. The gin was too herbal and I put in way too much liqueur. So I tried it with rum and reduced the liqueur — definitely on the right track. Understand — I'm doing this with teaspoons and squirts just to see if the flavors meld! So what we end up with is a guava-rum spritzy-punchy thing that really refreshes and kinda sneaks up on you!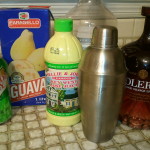 I Hate Winter Guava Rum Spritzer
Serves 1
1/4 cup Guava nectar
1 tablespoon lime juice
1/2 tablespoon blood orange liqueur
3 tablespoons white rum
Ginger ale
Put the juices, liqueur, and rum in a cocktail shaker filled halfway with ice. Shake vigorously for at least 10 seconds until the cocktail shaker is icy. Strain over ice into an old-fashioned glass. Top with ginger ale and stir gently. Consume immediately.