So a friend of mine is on the board of MCPAW (Montgomery County Partners for Animal Well-Being). MCPAW is a 501c3 organization working as a public/private partnership with the Montgomery County (Maryland) government to build, enhance, and maintain the new state-of-the-art Montgomery County Animal Services and Adoption Center being built in Gaithersburg, Maryland. Elizabeth knows I am an animal lover and staunch supporter of animal shelter adoptions (she once overheard me chastising a co-worker for his impulse purchase of a puppy mill puppy for his girlfriend), so she asked if I would attend Ladies Night Out with MCPAW (pampering for a good cause), and, oh by the way, would I consider baking something delicious for the dessert table? How could I say no? Silent auction, beauty samples, and supporting a cause near and dear to my heart — of course!
Joining in the fun were my co-workers Beverly and Carely:
I've been developing a citrus sweet bread using olive oil rather than butter. I love the flavor of olive oil — that earthy almost grassy undertone that really pairs well with citrus. It also might be marginally more "healthy" than using butter? This bread has a lovely light texture, a bright citrus flavor, and a mild olive oil background. It's not overly sweet, so it would be lovely for breakfast with coffee, or, as with our event, on a dessert table with wine.
Lemon Olive Oil Bread
2 cups flour
2 teaspoons baking powder
1/2 teaspoon salt
6 tablespoons extra virgin olive oil
1 cup sugar
2 eggs
Zest and juice of 1 lemon
3/4 cup buttermilk
Preheat oven to 375F. Prepare 9″ x 5″ x 3″ loaf pan by spraying with baking spray, lining with a parchment sling, and spraying the sling with baking spray.
In a small bowl, whisk together the flour, baking powder, and salt. Set aside.
In a stand mixer fitted with a paddle beater, mix the oil, sugar, eggs, zest and juice until well combined.
STOP mixer. Dump in half of the dry ingredients and mix on low until incorporated.
STOP mixer. Add the buttermilk and mix on low until incorporated.
STOP mixer. Add the second half of the dry ingredients and mix on low until incorporated.
Pour the batter into the prepared pan. Bake the loaf at 375F for 30 minutes. Rotate the pan, lower the heat to 350F, and cook another 25 to 35 minutes until golden brown and a toothpick inserted into the center comes out clean (or with only a few crumbs).
Allow to cool to room temperature before cutting (okay, at least cool to barely warm!).
This is Keith and my animal shelter adoption — a male chocolate cocker spaniel who has since gone to Doggie Heaven. He was completely nuts but much beloved and is still very much missed!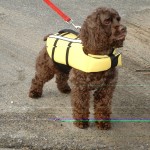 This is the FABULOUS bag I "won" in the silent auction. Yes, it really is as pink as it looks … pearlescent, even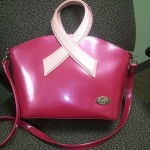 And my own browsing …