Happy Holidays to you and yours! This will be my last post of 2014. We're out of town for the holidays, spending a few days with my husband's mother and squeezing in a quick trip to Vegas (a little perk of being an empty nester!). So I'm baking like mad even though I've caught the cruddy cold that's going around. I've got a batch of these layer bars in the oven, using up my last jar of strawberry-rhubarb-ginger jam. I went nuts with home-roasted pumpkin, baking off some scones (a riff on this recipe, reducing the buttermilk and adding 1/2 cup pumpkin puree), a classic pumpkin bread jazzed up with some fresh cranberries (pictured next to the booze bottle below), and a batch of pumpkin yeast rolls from the King Arthur website.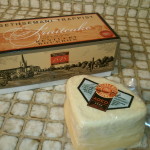 One of our treats at the holidays is to order cheese from the Trappist Monks at Gethsemani Farms. They offer four varieties of their semi-soft cheese — our favorite is the Aged (aka "stinky cheese"). They make a pretty nice fruitcake, too. We love the cheese with crackers and salami, or in a grilled cheese sandwich. It's available year-round, but it's a holiday tradition for us.
So my last cocktail recipe of the year is **barely** a cocktail. At the end of the day nursing a cold, after a zillion cups of hot herbal tea, you really are sick of the fruity crap. But an iced cocktail is just NOT what the doctor ordered — you already have the chills! But a gentle hot toddy, well, that's practically medicinal, right?
Smidgen of butter
3 tablespoons Evan Williams Apple Orchard
Hot water
Cinnamon stick (optional)
Put the butter and liqueur in the bottom of a mug. Add hot water. Stir until butter melts. Garnish with a cinnamon stick if desired.