So one of our colleagues was getting married. Our office is ALWAYS up for a party, so we planned a pot-luck to wish her and her intended well in their new life together (I know it's old-fashioned, but they weren't cohabitating, so it really was a new life TOGETHER). We had main dishes and desserts covered, so I offered to bring an appetizer.
The bride-to-be is a flexitarian but mostly vegetarian, so I wanted to bring something that was meat-free. Also, we have a culturally diverse workforce with many dietary constraints, so going meat-free also allowed the widest possible sampling. I hoped to make two dips, one vegan and one with dairy. Not hummus.
The vegan was easy — a white bean dip. No need for dairy, no need for honey … consider it DONE. My little twist: using pan-charred garlic.
As for the dairy dip, I've been a little obsessed lately with pimento cheese. There are a couple of decent supermarket brands, but they are EXPENSIVE, so it feels like a splurge. But c'mon, isn't it just cheese and mayonnaise and some red pepper? So when America's Test Kitchen Feed posted a well-described amazingly-simple recipe for pimento cheese, well, I had to take it and improve upon it (of course).
Pan-charred Garlic
This is an alternative to the oh-so-time-consuming oven-roasted garlic. No added oil and takes as little as 10 minutes.
Throw some cloves of garlic, still in their skin, in a dry pan over medium heat. Shake and flip occasionally, until the skins are charred and starting to slip off. Allow to cool slightly, then slip the cloves out of the skins. Refrigerate any you don't use immediately. Probably okay for 5 – 7 days (guess).
Garlicky White Bean Dip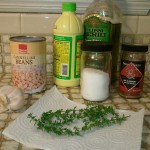 1 can cannellini beans, rinsed and drained well
3 cloves pan-charred garlic
Generous squirt of lime juice
Leaves from a few sprigs of thyme
1/8 teaspoon ground chipolte (or cayenne)
Kosher Salt to taste
Fresh ground black pepper to taste
1/4 cup extra-virgin olive oil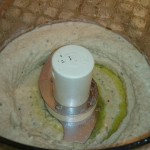 This couldn't be easier. Throw it all in the food processor. Process until smooth. Put it in a pretty bowl and garnish with some thyme twigs (see the image at the top). I'm embarrassed to call this a recipe.
Serve with sturdy dippers — like crackers or pita chips.
Spicy Pimento Cheese
Adapted from a recipe from America's Test Kitchen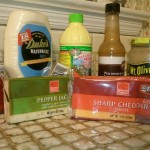 6 ounces block sharp cheddar cheese
3 – 4 ounces block pepper jack cheese (depends on your tolerance for spicy)
4 tablespoons chopped pimientos
2 tablespoons mayonnaise
2 tablespoons sweet pickle juice
Squirt or two of lime juice
1 teaspoon Worcestershire sauce (optional) [*]
Shred your cheese by hand grater or in your food processor. Do NOT use pre-shredded cheese! The texture won't come out right because that pre-shredded cheese is coated with stuff so it won't stick together in the ziploc bag. I adore pre-shredded cheese for a bunch of other applications, just not THIS one.
Dump the now-shredded cheese into a medium-sized bowl. Add the rest of the ingredients. Start stirring with a fork. It will look awful at first. Keep stirring. Don't add more mayo. Don't add more pickle juice. Keep stirring. Suddenly — it will look perfect. STOP STIRRING. You don't want to completely pulverize the cheese. Don't panic if it looks a little loose … it improves after a few hours in the fridge and will firm up beautifully.
How to serve:
Put it in a pretty bowl and serve with saltine crackers
Spread on white bread and eat it as a sandwich
Spread it on buttered bread and make a grilled cheese sandwich
Smear it on a hot dog
Embed a gob within a raw hamburger patty and grill
Eat it straight from the fridge with a fork, at midnight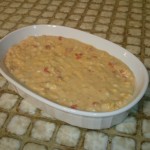 [*] Worcestershire sauce is traditionally made with anchovies. There are vegan varieties available.