A gin-and-tonic can be mighty refreshing on a hot summer day, but I wanted to play around with gin and seasonal produce. I still had some rhubarb syrup begging to be consumed and I thought I'd try something inspired by a Bee's Knees (thanks Sue!). Then, I saw this AMAZING Cucumber Mint Gin Cooler over on Heather Christo's blog, so I knew I had to try a couple of gin drinks.
Let's talk about the gin. I splurged and bought Tanqueray No. Ten Gin. Since these cocktails would have so few ingredients, I really did want a better quality base. This gin has some citrus notes to it, so I was pretty sure it would complement the drinks I had in mind.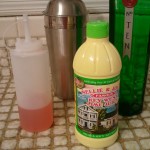 Hornet's Knees
Inspired by Sue's Bee's Knees
Serves 1
1/4 cup (2 ounces) gin
2 tablespoons rhurbarb syrup
1 tablespoon lime juice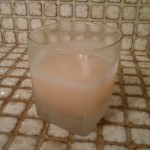 Put the gin, rhubarb syrup, and lime juice in a cocktail shaker filled halfway with ice. Shake vigorously for at least 10 seconds until the cocktail shaker is icy. Strain into a chilled old-fashioned glass. Consume immediately.
Cucumber-Gin Smash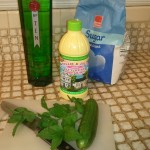 Inspired by Heather Christo's Cucumber Mint Gin Cooler
Serves 1
3/4 inch tiny cucumber, peeled and diced
2 teaspoons sugar
3 or 4 mint leaves
1 tablespoon lime juice
1/4 cup (2 ounces) gin
2 – 3 ounces lemon lime seltzer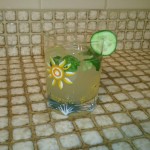 Put the cucumber, sugar, mint, and lime juice into the bottom of a sturdy wide-mouth tumbler ("Old Fashioned" glass). Muddle these together, making sure to smash the cucumber somewhat. Add the gin and stir to combine. Add some ice and top off with seltzer. Garnish with a thin slice of cucumber.