Yeah — I went there. I took an innocent Thanksgiving favorite, leftover cranberry sauce, and turned it into a cocktail. I couldn't help myself. We had a fair amount left, and it was looking lonely in there, since we'd already eaten the leftover duck, dressing, brussel sprouts, and pecan pie. We'd had a nice sangria earlier in the week, so I wanted something that wasn't so sweet. I already had orange in the sauce, so it was a natural to turn to an orange liqueur. And the CGP is always up for tequila, so a margarita-inspired cocktail just seemed to turn itself out.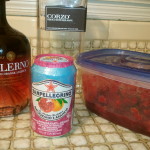 Cranberry Sauce Tequila Spritzer
Serves 1
1 tablespoon leftover whole berry cranberry sauce
1 tablespoon orange liqueur
3 tablespoons silver tequila
2 – 3 ounces San Pellegrino Pomegranate and Orange Soda
Lime (optional, not pictured)
Put the cranberry sauce in the bottom of a sturdy glass. Add the orange liqueur and stir to loosen up the sauce. Add the tequila and stir. Add ice. Top with the Pom and Orange soda, stir gently to combine. You might want a little squirt of lime juice at the end.