Slightly Obsessed is a website that publishes food-oriented media for the home cook working in the home kitchen. I strive to present approachable recipes and techniques that home cooks of all skill levels will want to try themselves.
Slightly Obsessed was launched in May 2013 by Michelle Matlack, home cook, cocktail goddess, and amateur photographer.
By day, I'm an IT professional. My work as a Data Analyst is NOT creative, but does align nicely with my slightly obsessive desire for order and mutually exclusive buckets. By night, cooking and cocktailing (new made-up word) serve as my creative outlets. It's also how I win friends and influence people.
I'm married to a research scientist, Keith, who is my Culinary Guinea Pig:
We were previously owned by an obsessive JRT mix, The Budster (RIP):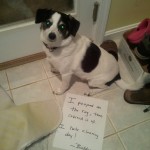 We live inside the DC Beltway (draw your own conclusions) in The Brick House. I also work inside the Beltway, so I just realized there are days I never leave the Beltway cocoon. We have a second home about an hour outside DC on the western shore of the Chesapeake Bay, affectionately referred to as The Shack (we also bought a place in Florida earlier this year). Yes, I Speak In Capitals Frequently (also in parentheticals). I'm a tad snarky, in case you didn't notice (Janeane Garofalo will play me in the movie version of my life).
Snark aside, I love to cook for people and people love to eat my food. Nice that it works out that way, right? I've outgrown FaceBook as a venue for posting my food porn pictures — because I'm not just about how the food looks, I'm all about how it tastes and the emotions it evokes.