For me, mojitos are synonymous with lazy summer afternoons that stretch into lazy summer evenings. As I mentioned in my All About page, my husband and I own a second home on the Chesapeake Bay. It's a quaint one-bedroom cottage, just the right size for the three of us. It's not right ON the water, but we have sweet peek-a-boo water views from the back deck, and it's just a short walk down the street to our community's private beach. To me, a great summer weekend is one spent at our cottage where I only wear a bathing suit or my jammies (sorry, no pictures of THOSE … this is definitely a PG website please!).
Mojitos are a light, refreshing rum-based drink and pretty much my signature cocktail during the hot summer months. Let me clarify — light in color and light in body — they definitely pack a punch otherwise! One of my friends in this beach community taught me to make mojitos many years back. We filmed the lesson (I still nearly wet myself laughing when I watch it), but due to her service as an elected official, I am not permitted to share said video, much to my disappointment. I will, however, do my best to share the recipe here, in words and still pictures.
For starters, we have wild mint growing around our deck and various nearby cottages. I have had mixed results using purchased mint, so I really recommend finding a living source and snipping it yourself. I use bottled lime juice with excellent results. My friend uses fresh limes (Key if she can get them) for the first two pitchers and then switches to bottled, once everyone is a little pickled and can't tell the difference! I use inexpensive white rum for this — you know, the stuff in the BIG bottle on the bottom shelf (this is not the recipe for aged rums — a mojito is a clear drink).
I must confess, I only know how to make these by the pitcher! Virtually everyone who consumes these asks for the recipe. After a couple of these, my "instructions" tend to get a little colorful, as reflected below.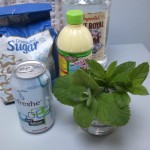 Michelle's Mojitos By The Pitcher
Serves 4 – 6
Shitload Loosely packed handful of mint leaves (maybe 1 cup?)
1/4 cup Nellie and Joe's Key Lime Juice
1/4 cup to 1/3 cup granulated sugar
1 cup cheapass white rum
1 can (12 oz) lime seltzer water (unsweetened)
Rinse and drain the mint leaves. Go over them carefully, as they sometimes harbor tiny bugs or spiders.
Put the mint leaves in a wide-mouth pitcher. The vintage Tupperware pitcher that I inherited from my second husband's first wife is PERFECT.
Dump the lime juice and sugar on top of the mint leaves. Bruise (muddle) the mint leaves with a muddler (the professional way), a whisk (what I use), or even a wooden spoon. The sugar acts as an abrasive and the acidity of the lime will help extract the mint essence. You aren't trying to mash the leaves into oblivion, just bruise them to extract the mintiness.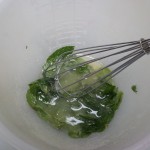 Add the rum. Stir gently to dissolve the sugar. Add the seltzer. Stir gently to incorporate.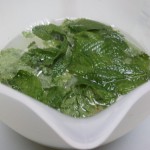 Pour into an old fashioned glass filled to the brim with ice, straining the larger leaves the best you can. Garnish with mint leaves if desired.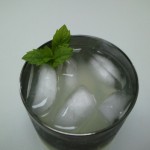 Enjoy the taste of Chesapeake summer in a glass … mmm mmmm …