So I work for a pretty cool company called WealthEngine. We had a major product release a couple of weeks ago — WE Analyze — a point-and-click web-based solution that harnesses the power of one of the largest consumer data sets ever created. It's been balls-to-the-wall for an extended period, with multiple parallel release sprints and, forget it, this is where everyone's eyes to start to roll. Let's just say it's been intense.
After a major release or product launch, we throw ourselves a big party. So a couple of days before the celebration, I got called into a conference room by one of my VPs. Since the summons came on the tail of a conference call where I got snotty about a potential publicity stunt I wasn't thrilled about, I assumed I was about to get a dressing down. To my relief and surprise, the VPs asked if I would create and serve a signature cocktail for the celebration — to be named The Fingerprint. Color me THRILLED!
We've had a few nice days (the flipflops have made an appearance!!), so I knew I wanted to go with something lighter and reminiscent of spring. So a clear liquor, not brown. And something fruity with a herbal or botanical accent. This is a tough time of year — the citrus has started to taper off and we don't have a fruit in season yet. Many frozen fruits rival fresh fruit, in quality, so I had no worries about turning to the freezer for raspberries. I had a general sense of proportion of liquor to seltzer to citrus to sweet after years of mixing these, so I just need to experiment with the right liqueur and tweak the proportions. Of course, it needed to translate to a pitcher — we are a drinking crowd!

The Fingerprint
Yield: 6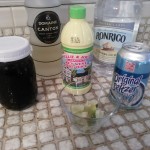 1/4c Raspberry-Ginger puree (recipe below)
1/4c ginger liqueur (I like Domaine de Canton)
1/4c lime juice (no shame in using bottled Nellie & Joe's Famous Key West Lime Juice)
1c silver rum (the cheap stuff is fine)
12oz seltzer (unsweetened)
Lime wedges
Fresh raspberries
Add the berry puree, ginger liqueur, and lime juice to a pitcher. Stir well. Add the rum and stir again. Add the seltzer and stir gently. Serve over lots of ice, garnished with a lime wedge and/or fresh raspberry.
*****
Now, for a crowd, I was making a double batch in EACH of my two party pitchers — doubling all the measurements above. I got more than 12 servings out of each double batch because we were using pretty small cups.
This sizes down nicely as well — it's a 1:1:1:4:6 ratio, for you math geeks. For other people, it's 1 tablespoon each of the puree, liqueur, and lime juice, 1/4c of the rum, and 1/4 of the can of seltzer.
On party day, I used a raspberry-lime seltzer. It's just as good with lime seltzer or even plain seltzer. The key is that it is unsweetened seltzer.
For you tequila lovers — feel free to sub in silver tequila in the same proportions as the rum. Really lovely.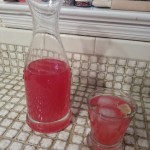 Raspberry Ginger Puree
Yield: ~ 16oz
1 12-oz package of frozen raspberries
3/4″ ginger, peeled and sliced into "coins"
water
sugar
Place the frozen berries and ginger coins in a saucepan. Add just enough water to cover the berries. Bring to a bare simmer and cook gently until the raspberries are mush and the water is a lovely deep berry color. Strain through a fine mesh strainer, pressing and pushing the solids against the strainer to extract as much juice and puree as possible. Discard the seedy mush. Measure the remaining (strained) liquid and add enough water to make an even measure (1 cup, 1.25 cups, 1.5 cups, etc). Pour this into a clean pan (or the same pan rinsed out). Add an equal amount, by volume, of sugar. Bring to a gentle simmer, stirring often to ensure sugar is dissolved. Boil gently for 2 minutes. Allow to cool completely. Refrigerate. Should last two weeks — but not likely much longer, as there's a fair amount of berry solids that push through the strainer.
Use in cocktails.
Mix with seltzer for a refreshing soft drink.
Drizzle over pistachio ice cream.